Emmy Award-winning sound mixer Juan Cisneros, CAS and the team at his company Sound695 Services regularly employ Lectrosonics wireless gear in capturing the action on a host of popular television series, including their latest project, Pam & Tommy, available on Hulu.
Cisneros has worked on many series over the past two decades, such as The West Wing, American Dreams, Six Feet Under, House MD, Real Husbands of Hollywood, Battle Creek, Code Black, The Orville, For the People, Mayans M.C., and Station 19. The Seth Rogan-produced Pam & Tommy focuses on the relationship between actress Pamela Anderson and rocker Tommy Lee.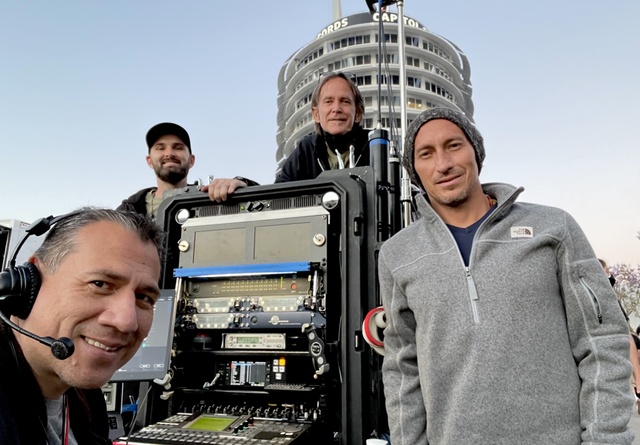 Sound695's most recent Lectrosonics acquisitions include five DSQD receivers and two DPR-A plug-on transmitters for boom mics, with some new DBSM digital bodypack transmitters recently ordered. They join a legacy inventory of SMV, micro-compact SSM transmitters, and wideband SMWB transmitters. The team also includes boom operator Gary Boatner, and sound techs Estuardo "S2" Galvez and Scott Marshall.
"Our five DSQDs are split between three on my main cart and two on a more portable system," notes Cisneros. "We have a sixth on order so the carts will both have 12 channels each. Lately, it seems like every show we do goes more smoothly with two systems. Not just for backup, but for going into a process trailer or any remote location where the main cart is not feasible."
Part of Lectrosonics' new all-digital D Squared line, the DSQDs are not only backward-compatible with Digital Hybrid Wireless units, but also wideband. "On Pam & Tommy we shoot all over the L.A. area," he explains. "We might be in the [San Fernando] Valley for one scene, in Hollywood the next, and all the way down in San Pedro the next. The RF spectrum is very different from one location to another, so I love being able to scan from 470 MHz all the way up through all available blocks."
The four-channel DSQDs can also fit more usable channels into a given frequency range, which can make a big difference between the sound department being the hero of the day or the scapegoat, as Boatner notes: "When we work on shows, one thing we often hear from directors and producers is, 'How come we're getting sound but not picture?' We like to keep it that way! The other day, we were at the Los Angeles Convention Center downtown, which is one of the trickiest parts of town for RF. With the DSQDs, we got 12 clear frequencies, just like that."
Recreating the tumultuous romance of Pam & Tommy often requires frenetic blocking on the actors' part, which is where the DPR-A transmitters on Boatner's booms come in. "We shot a scene where the pair are going from their walk-in closet to their bedroom and getting into a heated argument along the way," he recalls. "They're getting undressed, twisting and turning, going from a whisper to yelling at each other. I have the boom for 1 for 'Pam' (who is played by Lily James,) and Scott has boom 2 for 'Tommy' (played by Sebastian Stan.) There were also five plant mics, but there's no way we could have captured all their dialogue with cables attached to our booms. With the DPR-As, we had the freedom of movement to follow the talent. We could just pick up and go."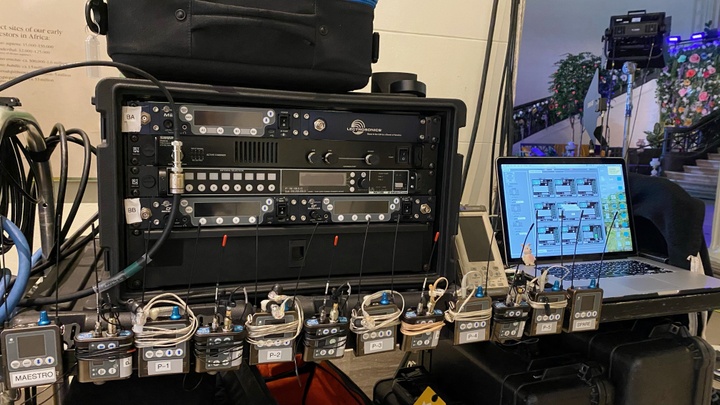 Though they plan to transition to fully digital D Squared equipment, the team has plenty to say about their Hybrid transmitters. "We did a scene the other day where we stashed the packs above the sun visors in a car," says Marshall. "These were SMVs on block 19, and it was a hot day. They absorbed so much heat through the roof of the car that when we took them out, they were too hot to touch. But they kept on operating!"
Recently, on the set of Mayans M.C., a transmitter literally survived the violence of a biker gang. "We had this big fight scene between two rival gangs," says Cisneros. "S2 was putting the packs on ankle straps for the talent. After the fight, they jump on their motorcycles and ride away. As this happened, I noticed that one of the packs had come loose during the fight and was dragging behind the bike on its wire, bouncing off the pavement as it went. Afterwards I sent it to Lectrosonics to replace the outer casing, but during all this, it never stopped recording audio."
The team also applied wireless to adhere to the Covid safety protocols of the industry. "We started the last season of Station 19 in September 2020, just when things were beginning to come back a little," recalls Marshall. "The stages were laid out before we even arrived, with zones for where each department could stand. They didn't want any crew congregating together, but that used to be how we got information from the director and assistant directors. So, I placed powered speakers throughout the set beforehand, and put one of our older UCR-411 receivers on each one. These were paired with HHa handheld mics on the directors' and ADs' carts. Now, they could communicate with each department from a distance."
A sound mixer as in demand as Cisneros interacts regularly with their equipment providers to optimize workflows, which is why he appreciates Lectrosonics' people as much as their equipment. "Karl Winkler and Kelly Fair probably get at least one question a week from me," he notes. "They're always happy to talk, as is Christian Cabezas, the Lectrosonics representative in South America, who coordinates with me via Zoom or conference calls with other mixers and/or TV stations in Mexico, helping them with their Lectrosonics equipment. The best part is, the Lectrosonics team never take anything personally.
"We had one assignment some time ago, an extended Ram truck commercial directed by Tony Scott, and he wanted to use a certain other wireless system because it could record and transmit at the same time. We had all kinds of problems during rehearsal, and the manufacturer kept insisting it was operator error when we knew it wasn't. We wound up using Lectrosonics instead, and it worked perfectly. I love that Lectro is always trying to improve things and actively solicit feedback from us, the people who work in the field every day.
"When you do a lot of TV, you have to get creative because your "A' plan might change in a split second and Lectrosonics understands this." That's why I'm a huge fan of them as a company."