SoundGirls has announced multiple events for both online and in-person training including Ableton Live, In Conversation with Daniela Seggewiss, An Evening with Lenise Bent, "Master" Mastering Workshop at The Bakery, and Career Paths in Live Sound & Production.
Schedules, registration and information on financial assistance for each event is available below.
Ableton Live for Anybody – 4 Session Online Course
SoundGirls is offering a four session online course on Ableton Live taught by Elana Carroll.  Sessions will be via ZOOM.
August 20, 21, 27, 28  7-9pm
$80 for the four sessions
email [email protected] if you require financial aid.
After registration SoundGirls will send you an invoice (via paypal) and after payment is complete, SoundGirls will email instructions for logging into ZOOM.  Each session will be recorded and provided to you after each session.
Class Description
Do you want to start making beats? Do you want to learn how to make your own demos? Do you want to sharpen your DAW skills so you can get over that first learning curve and really start running with your creativity? Do you want to start performing live with Ableton, but don't know where to start?
By the end of this four session course, you will have learned all you need to know in order to really get your engines revved up about Ableton. I want to give you the tools to explore and to run as much of your show as you want to. With your newfound agility and excitement, you might even feel confident to explore parts of Ableton functionality that haven't yet been discovered. Because that's what creativity is all about—exploring and playing! But first, what is it exactly that you will be learning?
Sessions 1 & 2 will be all about the essentials of Ableton. What is the basic design behind this software? How do you get the sounds you want IN there, so you can edit them and play with them? How do you program a drum beat? How do you slow it down if you want to? How do you mess around with ideas and decide what parts you want to go at the beginning, the middle, and the end? How do you listen to it on your phone? By the end of the class, you will have a multi-track song that you create entirely by yourself using Ableton.
*Key items covered: time signatures & tempos, MIDI, audio, clips, arrangement view, bouncing
Sessions 3 & 4 will focus on Ableton in live performance. You will learn how to make backing tracks that are suitable for the type of performance you want to put on. Maybe you want to push play at the beginning of the set and never really look at your computer again until your last song. Or maybe you want to engage with every sound that comes out of the house speakers. Or maybe your fantasy set is something in between! We will go over different approaches to designing your live set by using your new song from day one as a template.
*Key items covered: importing tracks, deciding on a playback concept, labeling, setting up loops and automation
Equipment needed (students):
-laptop with Ableton already installed – Download a 30-day free trial
---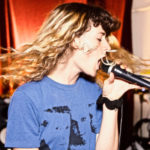 Instructor: Elana Carroll is a songwriter, producer and performer who has been making original music for 15 years. She holds a BA in music and critical theory from Bard College at Simon's Rock.
Elana's interests as a writer/producer span from electronic and dance to pop and country, and she co-writes with other artists as well. Her current focus is on teaching (she will be teaching a Beats by Girlz class this fall), and her own project, Party Nails. She feels it is part of her purpose in this life to "normalize" non-males in the music business through performance, teaching, and mentoring. She is particularly fascinated with popular culture and music in the age of technology.
—-
In Conversation with Daniela Seggewiss
Join Southern California SoundGirls for a conversation and social with Dani Seggewiss, freelance touring engineer. She currently works as a monitor engineer for the bands The Sweet and Opeth and is based in Leeds, U.K.
We will get a glimpse of life on the road and what it is like to tour in Europe.
Plenty of time for your questions.
Date: August 14, 2019
Peets Coffee
605 S. Lake Avenue
Pasadena, CA 91106
Time: 6:30 – 8:30
—-
An Evening with Lenise Bent
SoundGirls will be hosting An Evening with Lenise Bent in Amsterdam and New York.  A moderated discussion followed by Q&A. Bring your questions.
Producer/engineer Lenise Bent has worked as a recording engineer working on many iconic records including "Aja" by Steely Dan, "Breakfast in America" by Supertramp and "Tusk" by Fleetwood Mac. She was also the first woman to receive a platinum album for engineering on Blondie's AutoAmerican.
Since then Lenise has moved into post-production audio, beginning with creating the foreign music and effects tracks for the entire Disney cartoon catalog, and eventually specializing in recording and editing Foley. She has worked on several films and animated series, such as "Robo Cop," "Street Sharks," and "Extreme Ghostbusters." She has traveled the world for Dreamworks supervising and producing the foreign dialogue and vocals for "Shrek," "Spirit: Stallion of the Cimarron" and "Shrek 2". This rekindled her love of recording music, and she is now engineering and producing up and coming musicians as well as seasoned artists. Currently, one of her projects, a blues/rock band called the Primal Kings, is all-analog, recording and mixing to tape and cutting vinyl.
New York – Moderated by Dani Mari
August 27
8 pm to 10 pm
Main Drag
330 Wythe Ave Brooklyn, NY 11249
Limited Seating
Cost $40
Amsterdam – Moderated by Petra Randewijk

Sept. 3
7 pm to 9 pm
RPM
Eerste Schinkelstraat 16, Amsterdam
Limited Seating
Cost: $40
If you require financial aid please contact [email protected]
—
"Master" Mastering Workshop at The Bakery
Join SoundGirls for a Master Workshop on Mastering
The Bakery will open its doors to SoundGirls Members
The Bakery
August 20
9 am to 1 pm
Space is extremely limited
Register here
Mastering Workshop with Eric Boulanger & Jett Galindo
Vinyl Mastering with Peter Hewitt-Dutton
Mastering & The Music Business – Q&A with Jaymes Quirino, Eric Boulanger, Jett Galindo, and Peter Hewitt-Dutton.
—-
Career Paths in Live Sound & Production
Join us for a panel discussion and Q&A featuring women working and succeeding in the world of Live Event Production. The evening will end with a casual mentoring and networking session.
Date September 4, 2019
Location: Musicians Institute

6752 Hollywood Blvd, Los Angeles, CA 90028

7 pm to 10 pm
6:30 to 6:55 PM Arrive and Check-In
7 pm: Moderated Panel Discussion
8:30 pm: Q&A
9:15 pm: Networking
Moderator: Karrie Keyes – Executive Director of SoundGirls and Monitor Engineer for Pearl Jam and Eddie Vedder. Karrie has worked in Live Sound for the past 30 years.

---
Panelists
Amanda is the FOH Engineer for Janelle Monae, Tegan and Sara, and Ella Mai. She has run sound Carnival Cruises ship, taught music theory and has moved into Production Managing.
---
Whitney Olpin – Monitor Engineer & Production Manager
Whitney has been the Monitor Engineer for Melody Gardot, Lauryn Hill, Fitz, and The Tantrums, Sublime with Rome, Marian Hill, X-Ambassadors, and Walk the Moon. She also mixes monitors at the iHeartRadio Theater in Burbank. Whitney is currently the third party production manager for Live Nation clubs and theaters in Los Angeles.
---
Chris Costello – Tour Manager – Production Manager
Chris is a Production Executive whose past roles include serving as the head of Production for iHeartRadio and Tour Managing the artists, Alicia Keys, Perry Farrell, Deadmau5 and The Strokes. She's overseen live concert production in over 55 countries as well as consulted on performance space builds for many corporations. Currently, she's the VP, Production at Warner Music Group in downtown Los Angeles.
---
Meegan Holmes – Global Sales 8th Day Sound
Meegan has worked in live sound for over 25 years doing everything from system teching to mixing monitors and FOH. She is now in Global Sales for one of the largest sound system providers in the world, 8th Day Sound – Los Angeles
&nbsp
&nbsp
---
Kille Knobel – Lighting Designer
Kille has been the LD for Pearl Jam for over 18 years and has toured with Cher, Bette Midler, Temple of the Dog, Soundgarden, and The Smashing Pumpkins.  When she is not on the road, she works on The Jimmy Kimmel Show
&nbsp
&nbsp
---
Claire has toured as a backline/guitar tech and has recently finished teching with Vance Joy as support to Pink on her stadium tour across Europe. She has also toured with Raveonettes, Therapy, Dum Dum Girls, and The Answer. Claire runs Trash Tours that provide the live music industry storage facilities, crew, splitter vans, and logistical support.
---
  Kate Lee – Live Sound Engineer
Kate is originally from Taiwan and is now based in Los Angeles.  She has spent the past eight years living, studying, and working in the United States. She graduated from Musician's Institute Audio Engineering and Live Sound production program in 2012. She currently works for Rat Sound Systems as a shop technician and does freelance live sound engineering during the weekend.