Hosted by violinist and conductor Scott Yoo, the globe-trotting PBS Great Performances Series Now Hear This explores classical music composers' works and life experiences in the places where they ply their craft, with sound recordist Reid Mangan employing Lectrosonics Digital Hybrid Wireless gear to capture both musical performances and dialogue.
The show, created by Harry Lynch of Austin-based Arcos Films, has an intense travel schedule that necessitates a tight crew, that includes Mangan/ Specifically, he employs Lectrosonics SRb and SRc receivers (slot-mounted in an SL-6 dock with a Sound Devices 688 recorder) as well as two each of SMV, SMQV, and LT transmitters, and an HMa plug-on transmitter paired with a UCR411a receiver for occasional boom work.
"For the music performances, I'm running up to ten channels of cabled mics and am focusing on mic placement to get an ideal sound from each instrument. And I capture dialogue at the same time," says Mangan. "Because this is a documentary show and not scripted, we don't get to do alternate takes if there's a technical problem. Point being, for the dialogue, I need wireless that I can set and forget. I can't hold a boom over someone's head at the same time I'm doing everything else; we need whatever is happening right in front of us to come through in the moment and sound natural, with no surprises. Lectrosonics is better in that regard than any other brand I've ever used."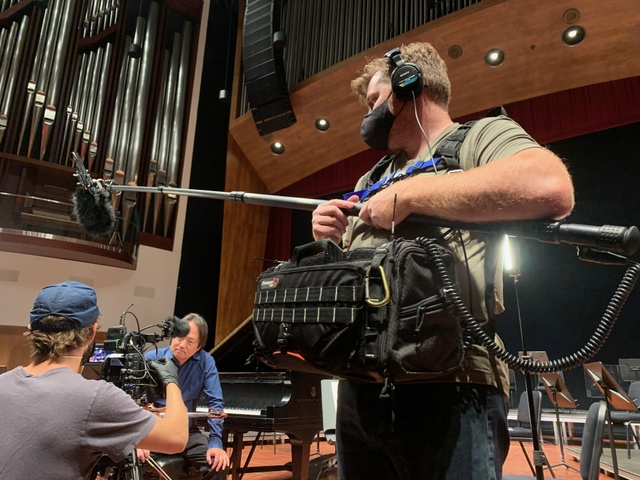 He adds that Lectrosonics is key in mitigating frequency planning difficulties, noting that Digital Hybrid Wireless technology, which maximizes usable channels within a given radio frequency range, has made the process work well no matter where the show finds itself. "We've filmed on three continents, including North America, Europe and Africa," he says. "Normally, every time you cross a border you have to put together an audio bag specifically for that country or region. That hasn't been the case here. The receivers always lock onto open frequencies, and between Scott and his guests we'll usually have up to four channels of wireless going, though sometimes I've used six."
Mangan also cites the high output power of the SMV and SMQV as an asset. "We're often shooting in buildings that are in busy city centers with tons of RF activity," he explains. "We've used the 250-milliwatt mode on the SMV and SMQV more than I expected. We also like the SMV because it's small and can be easily hidden on the talent. The LTs are relatively new to my rig, but I like the infrared sync on those and being able to quickly change frequencies without dialing it in manually. Anyway, the transmitters always punch through and we get a great sound — detail, dynamic range, the natural quality of the human speaking voice, all that — with no interference."
In addition, he occasionally uses his wireless kit to augment a wired instrument mic in addition to recording dialogue: "Sometimes I'll gain-stage a lav mic to capture a cello or violin. A little of that added to a wired signal can add body in the mix. I might do this with larger ensembles as well because with the wired mic kit, we only have ten channels to record all the instruments."
The filming conditions on Now Hear This have not presented major environmental woes so far, but Mangan has weathered them on other productions. "While shooting a documentary with an indigenous tribe in Columbia, we had hours when it was pouring, hours when it was blazing hot, all of that," he concludes. "The gear was getting rained on, sweaty, and dirty. At one point, someone we had miked rolled down this muddy hill and his Lectrosonics transmitter just got covered. And it kept on working, no problem."
Season 2 of Now Hear This will be returning to PBS starting on September 18. Go here to find out more about the program.