UPMC Cooper Field House, the 3,500-seat home arena for several Duquesne University (Pittsburgh, PA) sports teams, recently re-opened following an extensive renovation project that included Daktronics installing a new sound reinforcement system utilizing Fulcrum Acoustic loudspeakers.
As is usually the case with sports arenas, Duquesne sought a system to reproduce high-output music as well as provide maximized speech intelligibility. Daktronics mounted Fulcrum Acoustic FH15 coaxial horns in a center cluster above the court, with four FH1596s selected for their 90 by 60-degree dispersion pattern to cover the lower-tier seating while narrower-coverage FH1565s handle the upper seats. A fifth FH1596 faces straight down to cover the court.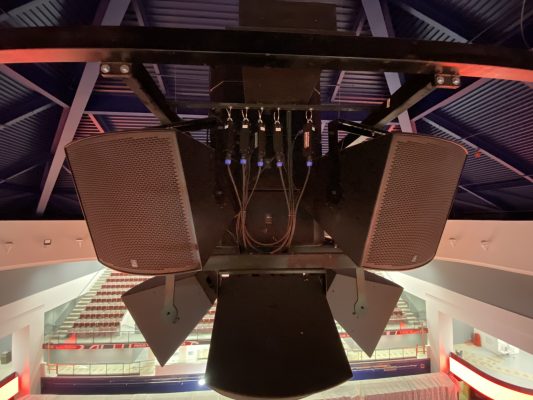 In addition, four Fulcrum Sub218L subwoofers are suspended from the ceiling in a vertical array to provide low-frequency output with added vertical control. "The fidelity and output of the Sub218L is perfect for the exciting bass that fans are looking for," says installer John Carlson of Daktronics. "The fans eyes light up when they hear that bass. Even at lower sound levels, the system maintains a full, clean sound."
Seven Fulcrum CCX1295 coaxial cardiod loudspeakers provide supplemental coverage for seats that are shaded from the main cluster by the overhang from the upper seating deck. And, a practice gymnasium adjacent to the main arena now has four Fulcrum GX1526 coaxial models providing coverage of the entire space.
"As an installer, I like how easily the entire system comes together," Carlson concludes. "I appreciate that they use the NL4 to just click and lock. I can utilize sub contractors who aren't familiar with audio because these products are so installation friendly."
Fulcrum Acoustic