Founded in 1973 by Don and Carolyn Davis, Synergetic Audio Concepts (SynAudCon) has long set the industry standard for quality audio engineering education. SynAudCon audio seminars remain among the most highly respected educational opportunities for interested folks on all levels from beginner to highly advanced.
With Pat and Brenda Brown at the helm since 1995, SynAudCon has continued to expand their educational offerings, including the industry's first general online training program. Today, SynAudCon offers a series of six online courses, covering topics across a range of disciplines and levels, from the basic "How Sound Systems Work" through the advanced "Sound Reinforcement for Designers." Two more courses on equalization are also slated for release this month (May 2020).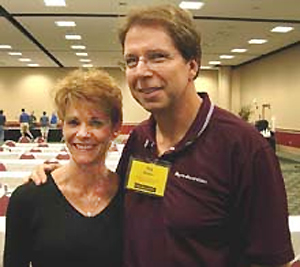 Note that this training is approved for AVIXA renewal units, CEDIA continuing education units, and meets Professional Engineers continuing education requirements, making the investment even better for folks who also wish to maintain their certifications.
Michael's Observations
Pat, Brenda, and their team have been hard at work updating and expanding these offerings to incorporate more content, including Pat's famous "hands-on demos." In evaluating this "new and improved" online learning experience, I wanted to take a look at how the courses could benefit individuals at different points in their audio journey – from someone taking their very first steps to a 40-year industry veteran and everyone in between.
For that, I enlisted the help of my apprentice, Hannah Goodine, an audio student finishing her junior year at the New England School of Communications at Husson University. Hannah worked through the 50-level "How Sound Systems Work" class on her own, and then we sat down and went through the 200-level "Audio Applications – Signal Chain Optimization" together.
Before she shares her thoughts, allow me to share mine. The 200-level course is a complete journey through system gain structure optimization, starting within the mixer itself, all the way through DSP, amplifiers and loudspeakers. Strong is the temptation to graze over this stuff. "Gain structure? I know all about gain structure."
In reality, however, I cannot say with certainty that I have ever encountered a sound system in the field that had its gain structure set 100 percent correctly from start to finish. This stuff ranks high on the list of "things that need fixing" and so I think it's safe to say these topics rank among the most important for folks in our line of work, and even for those who have a solid grasp of the concept, a refresher is always justified.
The video demonstrations, which come at the conclusion of the lesson sections, are worth the price of admission alone. Pat demonstrates a handy trick for quickly determining a system's gain structure using nothing but a piezo tweeter, and his demonstration of the "hidden" gain stages in an analog mixer should be required viewing for everyone in our field – not a statement I make lightly.
There's also a wonderful .wav file that can be used to demystify the meter ballistics of the equipment you're working with, along with yet another video demonstration showing its use. The downloadable CAF viewer is an extremely handy tool to keep around for quickly calculating all sorts of gain structure related values, and a welcome addition to my audio software toolkit.
Each lesson begins with a downloadable/printable topic outline and summary, and then as the series of video lessons is viewed, users can leave comments and questions directly on the video page. Seeing the questions of previous viewers, along with Pat's responses, is a nice reassurance that help is at hand if you are confused about something or require clarification. Each lesson concludes with a quiz to check your understanding. Now for Hannah's impressions on the training courses.
Hannah's Observations
The 50-level class "How Systems Work" gives a solid foundation of knowledge for anyone just starting in audio, or someone who wants to further understand the concepts behind a sound system. The class covers signal types, hooking up the system, and even touches upon common issues within systems. Although I had familiarity with these topics from my formal studies, hearing them explained in a different way deepened my understanding and added context.
The 50-level course includes nine lessons, each broken into multiple videos. Most videos are ten minutes or less in length, which we felt was a comfortable length to establish the new information without becoming overwhelming.
This is especially true when watching the demonstration videos included in the courses. For the microphone polar pattern demonstration, Pat created a mechanism to rotate a microphone around a point in space, while the signal that the mic picks up from a stationary source is included in the video. Although I have prior knowledge of polar patterns, hearing the effects so clearly demonstrated really helped my understanding. There are demonstrations such as this one throughout both courses.
The 200-level course helped my understanding of gain structure throughout audio systems. More specifically, I now have the knowledge to interpret amplifier power ratings, which I had struggled with in classes prior to taking this course. For more information about these courses, along with the others offered by SynAudCon, head over to prosoundtraining.com.