A five-week program of outdoor live entertainment labeled Kultursommer 2020, presented this past summer in the city of Oberndorf am Neckar in southern Germany, saw event specialist dts Veranstaltungstechnik GbR ("dts") deploy its recently acquired ViRAY loudspeaker system from CODA Audio.
The organizers assembled acts from a variety of genres for the outdoor shows, including metal bands Rage and AXXIS, Classic meets Gypsy with Zorana Memedovic and Heinze Costabel, as well as comedy and cabaret performances with Heinrich del Core and Dui do on de Sell.
With more than 25 years experience in the sector, dts decided that Kultursommer 2020, with a requirement for versatile sound reinforcement, would benefit from the deployment ViRAY. Thomas Müller of CODA, who has worked freelance on numerous dts shows over the years, collaborated with the company to help design the system.
Conditions in respect of noise protection for local residents meant that calculations had to be precise. Müller and the dts team worked together using CODA's System Optimiser to help make accurate predictions of the expected results, helping to ensure that sound would be placed where required while avoiding disturbing the site's neighbors.
In addition, Covid-19 regulations were strictly adhered to, with the audience area divided into three zones. Deck chairs were provided at the front of the space, with chairs and tables in the middle. An area for cars was created at the back with those inside receiving an FM transmission. Following detailed discussions between the city administration and dts, a large presence of security staff ensured that there was strict compliance with the rules.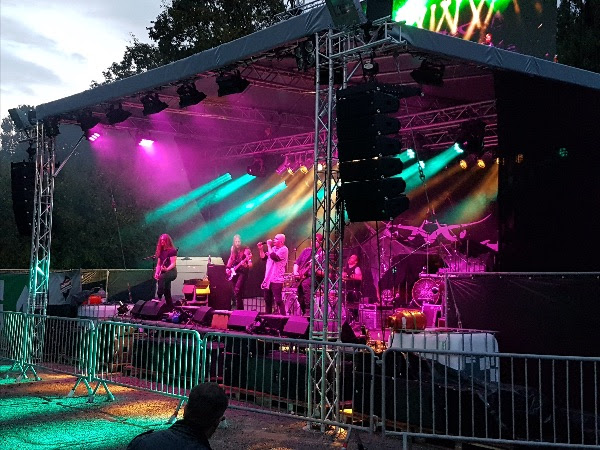 "It was great to be involved with Kultursommer 2020," says Müller. "The events provided the region with some much-needed cultural highlights and were extremely well run. As for the system — the ViRAY never ceases to amaze me again and again. It sounds extremely natural and very powerful – it's a bit like having a loud studio monitor at any location in the audience area. If you close your eyes you feel like you're sitting directly in front of the artists.
"The comments we received from visiting engineers confirmed that the CODA system was the perfect choice, given the wide variety of acts on show," he continues. "From brass bands to folk music, and heavy metal to EDM, the system demonstrated a consistent and outstanding level of performance. Some of the visiting techs expressed that they had been really looking forward to using it and were not disappointed."
The main PA for Kultursommer consisted of six ViRAY modules per side (four at 80 degrees and two at 120 degrees) and a subwoorfer arc comprising SCV-F subs in cardioid configuration. Four more ViRAY boxes (at 120 degrees) supplied front fill, while the requirements for monitoring were variously drawn from G712, APS and SCV wedges.
"The acoustic calculation with the System Optimiser is very quick," Müller states. "The very precise radiation pattern allows us to determine exactly where we need to project the sound. The cardioid sub-arc provides the necessary pressure in the audience area and excellent damping on and behind the stage. The LINUS Control Software allows you to have everything in view so you can intervene and tune accordingly at any time. All the visiting technicians were in agreement that the system impresses with a homogenous dispersion and a very natural sound."
Jonas Hillman, front of house engineer for metal band Vanish adds: "Straight away just running recorded music through the PA, I took a very positive view of the detailed imaging and coverage behaviour. The system sounds very authentic and dynamic. I'd say it provides incredible support in achieving a perfect sound experience in a very short time, with significantly less equalization than usual."
And Jonathan Schumacher, CEO of dts, concludes: "For Kultursommer we were faced with different challenges – maximum performance inside the audience area and the lowest possible emissions outside, as well as a very varied programme of artists. The precise coverage pattern we achieved enabled us to meet our aims and we got a lot of positive comments on the sound at every event, completely vindicating our choice of CODA Audio."